English Section Program
The English section curriculum of CPF Montana aims at preparing students to become International Baccalaureate Diploma holders. This preparation starts from early ages.
Primary school program is built of Approaches to Teaching and learning that foster critical thinking skills, social and communication skills, creativity, innovation and self-management skills. The curriculum is mainly incorporation the Common Core Standards in English language, Mathematics, Sciences and social studies. The national curriculum is adopted for teaching Arabic Language. In alignment with its Language Policy, CPF Montana assures the teaching of French Language in its English section starting KG1.
Throughout the middle school years, students are monitored and guided to consolidate the acquired skills and to acquire additional skills especially in the area of research and self-reflection. The middle school curriculum is customized to induce IBDP requirements. The curriculum is a mixture of American program and national program aiming at preparing non-exempted students for national examination – Brevet. English, Arabic and French languages are at the heart of middle school curriculum in addition to Mathematics and Sciences. Moreover, social sciences, physical and artistic education offer to students many learning opportunities to discover his own potential and start preparing the students to make decision in the areas of future specialties.
Secondary school starts with ha pre-IB class – grade 10, where students are closely guided, training and monitored to respond to the IBDP requirements.
The IB Diploma Programme

The Diploma Programme is a challenging two-year pre-university course with rigorous internal and external assessment. It is designed for 16-19 years old students who are well organised, resilient and highly motivated.
The Learner Profile is at the heart of the IB Diploma Programme Model, which encourages students to be knowledgeable, thinker, inquirer, open-minded, risk-taker, reflective, communicator, balanced, principled and caring citizens. https://www.ibo.org/benefits/learner-profile/
IB Diploma Programme students need to choose six subjects to study; 3 subjects should be at Higher Level and 3 subjects at Standard Level. In addition, students need to fulfill the IBDP core requirements: Extended Essay (EE), Theory of Knowledge (TOK), and Creativity, Action, Service (CAS)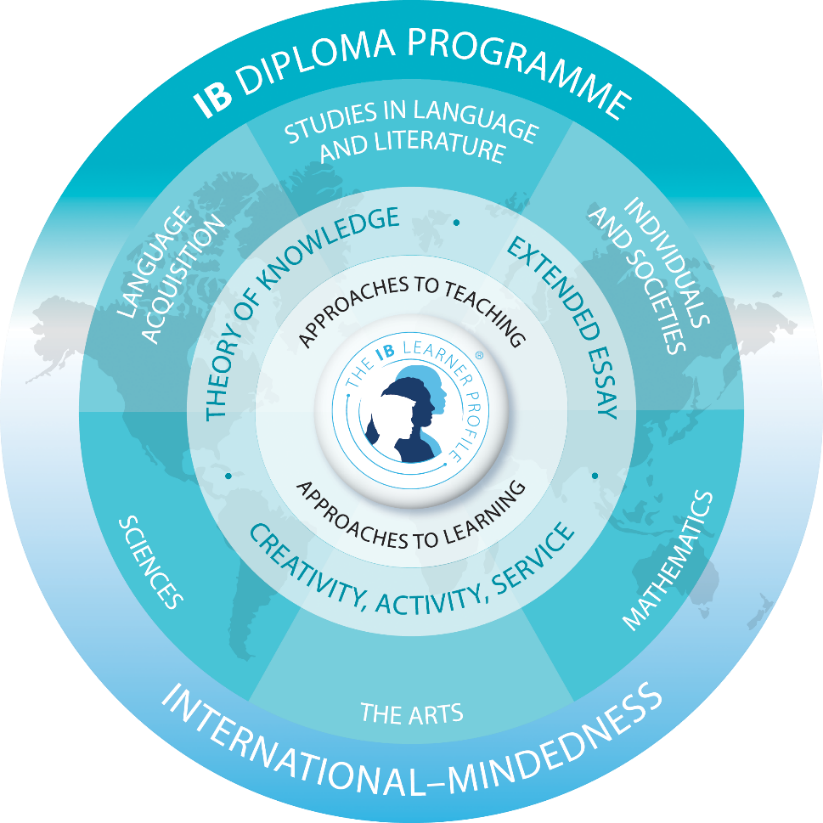 © International Baccalaureate Organization 2018
IB DP Subject Offerings at CPF Montana
The curriculum and assessment pages on the IBO website include detailed explanation about the subjects and the related exams.
https://www.ibo.org/programmes/diploma-programme/curriculum/
https://www.ibo.org/programmes/diploma-programme/assessment-and-exams/
At CPF Montana students can choose one of the tracks:
The Full Diploma: Students are assessed externally on all the 6 subjects and they receive the IB Diploma.

The Diploma Courses: Students are assessed externally on specific subjects if their choice and they receive the IB Certificate of that subject.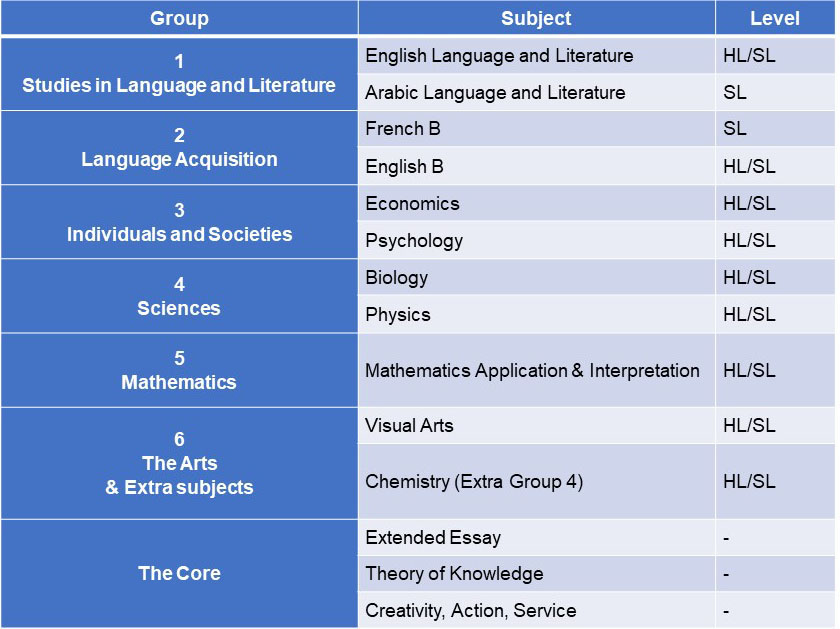 Students have to choose three subjects in Higher Level (HL) and three subjects in Standard Level (SL).
Students who hold Lebanese Nationality ONLY, need to choose Arabic Language and Literature in Group 1.
Students who wish to receive a Bilingual Diploma, need to opt for BOTH English and Arabic Language and Literature in Group 1.
All subjects are assessed internally (the work is moderated by the IB examiners), and externally (the exams are graded by IB examiners).
For information about the programme, visit the IB Diploma Programme official page.
https://www.ibo.org/programmes/diploma-programme/what-is-the-dp/
For more information about the IB Diploma Programme at Collège Protestant Français Montana please contact the IB Diploma Coordinator,

Mrs. Anjel Lublubjian Bouari:

anjel.lublubjianbouari@cpf.edu.lb
To know more about the IBDP Policies at CPF Montana (click here)